Spas
Spa in Greek and Roman age was related to bathing, when it comes to Thailand, spa has become various with a combination of bathing and Thai massage as well as other techniques.
The spa venues can be categorized into many different types in terms of basic idea, location, purposes, etc. They can be as: 
Row house spa venue
It can be found almost everywhere in the city with reasonable rate when services may not be as variety. But it doesn't necessarily mean that it offers the worst treatment among all kinds.
Price range: 150-1,000 Baht.
Home spa
Set among spectacular location and decoration, it's more classy with more choice of treatment and services. Each of the venues has unique characteristics among its kind from the designed treatments and location.
Price range: 500-8,000 Baht
Hotel venue spas
The most luxurious and the most expensive with hotel standard, it's where you probably get the best service. Each has created concept and provide treatment and services to make itself unique.
Price range: 1,000-15,000 Baht
Medical spa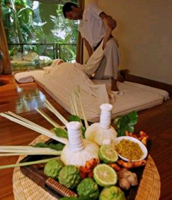 With variety types of service and treatment, this spa type was born for medical purposes, mostly deals with beauty with hi-tech facilities for healing or beautifying.
Price range: 1,000-3,000 Baht
Spa's review
Make sure to complete your perfect holiday or business trip to the Spa Capital of Asia with an indulging experience at one of the city's heavenly spas; a blissful and pleasurable experience that promises to give you a new lease on life. Often blending Western and ancient Eastern techniques, a session at a spa is designed to help you release stress, regain inner balance and rejuvenate your spirit. Have a look at these recommended hotel spas and day spas.