Sport
There's never a dull moment in a city like Bangkok, no matter what blows up your skirt. Whether you're a spectator, looking for a leisure activity or like to be physically active, you'll be surprised with the wide range of choices.
From the now famous Muay Thai (Thai boxing) and ice-skating to bowling, cycling, golf or even a tango lesson, it can be found in Bangkok. If you want to take a break from shopping and sightseeing - or even in between business meetings - you won't have to look far for something else to do.
Martial Art & Muay Thai (Thai Boxing)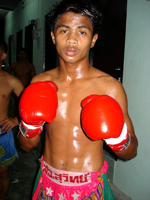 Be it for keeping fit and healthy, self-defense, concentration or other reasons, martial arts have several beneficial aspects. One of the most popular martial arts in Thailand of course is Muay Thai, the Kingdom's national sport. This very demanding martial art, considered one of the fiercest contact sports, is practised by professional fighters who begin their rigorous training in their childhood and continue until they usually retire at an age around 30. Muay Thai champions often reach cult status.
read more
Place for watch Thai Boxing
Sport & Fitness centers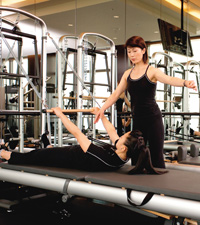 Bangkok's multitude of recreational amenities offers a wide range of fun indoor and outdoor activities.
Most five-star hotels and luxury serviced apartment residences have fitness facilities, but if you're not staying in one, there are plenty of hip and fashionable fitness clubs with state-of-the-art equipment available around the city.
While clubs generally operate on a membership basis, most of them offer special promotions or short-term packages for non-residents.
read more
Bangkok Fitness Center & Sport CLub
Ice Skating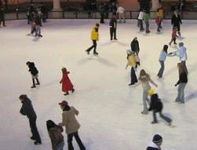 Beat Bangkok's heat and stage your own holiday on ice at the city's many rinks. An ideal (and fun) way to spend time with your family, ice skating provides non-stop thrill for kids and parents alike. Remember to wear something warm and comfortable. Long, thick socks, jeans, and gloves are recommended as they will cushion against unexpected falls.
Sub Zero Ice Skate Club - Esplanade, Ratchada Road
World Ice Skating Center - 7th Fl., World Trade Center Complex, Rajprasong, Radjamari Rd.
Imperial World Ice Skating - 999 Sukhumvit Road, Samrong Nua, Samutprakarn
Open Ice Skate - Imperial Lad Prao (Big C Superstore)



Bowling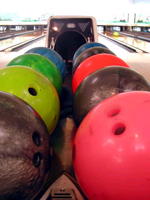 Bowling alleys, and karaoke usually go hand in hand in most shopping malls.
If you feel like showing off your vibrato, or consecutive strikes, just stay where you are and you can have it all!
Blue-O Rhythm & Bowl - 5th Floor Paragon Cineplex, Siam Paragon
Major Bowl Hit - roof at CentralWorld.
SF Strike Bowl & Music City - MBK Center.
Cosmic Bowl - Nearest branch is at EGV Metropolis, Big C Ratchadamri.
Golf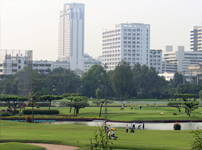 Bangkok golf courses offer great value for money with many excellent golf clubs offering a high level of service at very competitive prices.  Golf tours and holidays have grown rapidly across Thailand, particularly in Bangkok where there are scores of delightful golf courses and clubs within easy reach of the city centre. Most of them have been renovated and developed to world-class standards. 
Indeed, Bangkok is now a hub of international golfing activities and offers the perfect combination of city and leisure facilities. Excellent clubhouse amenities, challenging scenic courses and smiling, friendly service ensure that a golfing holiday in Bangkok is a golfer's paradise.
They say golf is a great game: sometimes rewarding, often frustrating but highly addictive. For new golfers, the game is not so hard to get started. Hopefully the following suggestions can help you avoid some of the common pitfalls.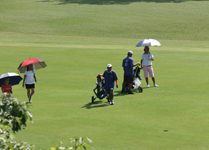 Bangkok has a vast assortment of world-class golf courses and clubs within easy reach of the centre. Our extensive list of golf packages offer the chance to experience any one of these, inclusive of transportation, green fees, golf carts where needed and caddie fee. The city has become something of a golfing hub in Asia, catering to the needs of both the experienced and novice golfer. There are approximately 50 golf courses dotted around the capital.
Alpine Golf & Sport Club
Thai Country Club
Bangkok Golf Club
Lakewood Country Club...
Badminton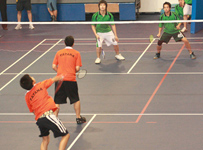 If you feel intimidated by a fast-travelling tennis ball, why not opt for the softer version badminton (which is very popular in Asia). There are countless badminton courts in Bangkok. Most of which usually have racquets available for rent.
It's also advisable to check with a court before you go since some places are reserved exclusively for their members.
Tennis court at Lumpini Park (Youth Center) - Lumpini Park (Youth Center), Rama IV
Soi Klang Racquet Club - 6, 8 Amara 3, Sukhumvit Soi 49-9, Soi Klang
Chulalongkorn University Sports Center - Phayathai Road, Pathumwan
Sports Authority of Thailand - 286, Ramkhamhaeng Road, Hua Mark, Bangkapi
The National Stadium (Supacharasai) - Rama 1 Road, Pathumwan (BTS the National Stadium station)
Indoor Stadium Huamark & Rajamangala National Stadium - 2088 Ramkamheang Road, Huamark, Bangkapi
YWCA - 13 South Sathorn, Yannawa...
Tennis & Squash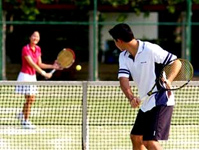 After the huge success Thailand's tennis sensation Paradorn Srichaphan achieved at international matches and tournaments, more and more people in Thailand seems to be picking up a racquet in hopes to become the next champion.
If you feel like honing your backhand and  forehand skills yourself, many major hotels usually have their own tennis court available for guests. However, if there isn't one where you're staying, there are plenty of public tennis and squash courts throughout the city; in public parks, at universities or fitness centres.
Note that some places do require membership, so make sure you check with the venue first.
The Capitol Club - Location: 99/397 Sukhumvit 24, Klongton, Klongtoey, Bangkok 10110 Thailand
Tennis court at Lumpini Park (Youth Center) - Location: Lumpini Park (Youth Center), Rama IV
Soi Klang Racquet Club - Location: 6, 8 Amara 3, Sukhumvit Soi 49-9, Soi Klang...
Aerobic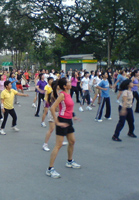 Free aerobics lessons are available in most public parks in Bangkok.
The most notable is at Lumpini Park where yoga, aerobics and tai chi lessons can be had. Classes are available early in the morning and around 18:00 onwards.
No registration nor membership is required, just a lot of energy to join in the fun!
Chulalongkorn University Sports Center - Phayathai Road, Pathumwan
Lumpini Park - Lumpini Park (Youth Center), Rama IV
Thammasat University Sport Center - Gymnasium 7, 99 Moo 18 Pahonyothin Road, Long Luang, Pathumthani
Sports Authority of Thailand - 286, Ramkhamhaeng Road, Hua Mark, Bangkapi
Bangkok Metropolitan Youth Centre (Thai-Japan) - Mitmaitri Road, Din Daeng
Sport in Bangkok Parks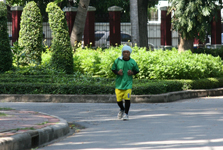 What would a city be without parks and greenery? Not only is Bangkok very green, with numerous streets and alleys lined with trees, but the capital boasts a handful of lush and verdant parks. In a hustling and bustling metropolis like Bangkok, where traffic never seems to dwindle, tranquil parks offer an ideal retreat from the city's madness. Relax on a bench or stroll in the trees' shade. Bangkok's parks also offer an excellent setting for outdoor activities. Jogging, Frisbee, Babmington, bicycle, Tai Chi and aerobics are among the popular activities people like to engage themselves in.

Lumpini Park, located off Rama IV not far from the Silom area, offers a great setting for jogging or walking. Join people practicing the ancient art of T'ai Chi just after dawn, or aerobics enthusiasts behind the Rama VI statue in the evenings.
Another popular park is Benchasiri Park on Sukhumvit next to the Emporium Shopping Complex.
Though much smaller than Lumpini, this park, which also features a sports area for 'trakaew' (rattan ball game), volleyball, basketball and skateboarding, provides some tranquility in Bangkok's busy Sukhumvit area.
Chatuchak Park, located right next to the famous Weekend Market is popular and offers a pleasant retreat from the market's hullabaloo.