Thai Music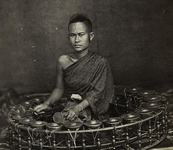 The music of Thailand reflects its geographic position at the intersection of China and India, and reflects trade routes that have historically included Persia, Africa, Greece and Rome.
Thai musical instruments are varied and reflect ancient influence from far afield - including the klong thap and khim (Persian origin), the jakhe (Indian origin), the klong jin (Chinese origin), and the klong kaek (Indonesian origin).
Though Thailand was never colonized by colonial powers, pop music and other forms of modern Asian, European and American music have become extremely influential.
The two most popular styles of traditional Thai music are luk thung and mor lam; the latter in particular has close affinities with the Music of Laos. Aside from the Thai, ethnic minorities such as the Lao, Lawa, Hmong, Akha, Khmer, Lisu, Karen and Lahu peoples have retained traditional musical forms.
Classical Music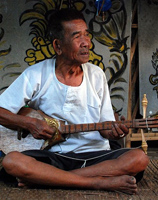 Thai classical music is synonymous with those stylized court ensembles and repertoires that emerged in its present form within the royal centers of Central Thailand some 800 years ago.
These ensembles, while being deeply influenced by Khmer and even older practices and repertoires from India, are today uniquely Thai expressions. While the three primary classical ensembles, the Piphat, Khruang Sai and Mahori differ in significant ways, they all share a basic instrumentation and theoretical approach. Each employ the small ching hand cymbals and the krap wooden sticks to mark the primary beat reference.
Several kinds of small drums (klong) are employed in these ensembles to outline the basic rhythmic structure (natab) that is punctuated at the end by the striking of a suspended gong (mong). Seen in its most basic formulation, the classical Thai orchestras are very similar to the Cambodian (Khmer) pinpeat and mahori ensembles, and structurally similar to other orchestras found within the widespread Southeast Asian gong-chime musical culture, such as the large gamelan of Bali and Java, which most likely have their common roots in the diffusion of Vietnamese Dong-Son bronze drums beginning in the first century ACE.
Modern Thai Music
By the 1930s, however, Western classical music, showtunes, jazz and tango were popular. Soon, jazz grew to dominate Thai popular music, and Khru Eua Sunthornsanan soon set up the first Thai jazz band. The music he soon helped to invent along with influential band Suntharaporn was called pleng Thai sakorn, which incorporated Thai melodies with Western classical music.
This music continued to evolve into luk grung, a romantic music that was popular with the upper-class. King Bhumibol is an accomplished jazz musician and composer.
Thai Music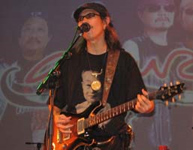 By the 1960s, Western rock was popular and Thai artists began imitating bands like Cliff Richard & the Shadows; this music was called wong shadow, and it soon evolved into a form of Thai pop called string.
Among the groups that emerged from this period was The Impossibles. The '70s also saw Rewat Buddhinan beginning to use the Thai language in rock music as well as the rise of protest songs called phleng pheua chiwit (songs for life). The earliest phleng pheua chiwit band was called Caravan, and they were at the forefront of a movement for democracy.
In 1976, police and right wing activists attacked students at Thammasat University; Caravan, along with other bands and activists, fled for the rural hills. There, Caravan continued playing music for local farmers, and wrote songs that would appear on their later albums.
In the 1980s, phleng pheua chiwit re-entered the mainstream with a grant of amnesty to dissidents. Bands like Carabao became best-sellers and incorporated sternly nationalistic elements in their lyrics. By the 1990s, phleng pheua chiwit had largely fallen from the top of the Thai charts, though artists like Pongsit Kamphee continued to command a large audience.
String (Thai pop)
String pop took over mainstream listeners in Thailand in the 90s, and bubblegum pop stars like Christina Aguilar, Bird Thongchai McIntyre and Asanee-Wasan became best-sellers.
Simultaneously, Britpop influenced alternative rock artists like Modern Dog, Loso, Crub and Proud became popular in late 1990s.
In 2006, famous Thai rock bands include Clash, Big Ass, Bodyslam and Silly Fools. The late 90's saw pop overshadowed by the remarkable commercial resurgence of Luk Thung, but modern Luk Thung has also adopted some elements from the pop acts.
| | | |
| --- | --- | --- |
| Bird Thongchai & Sek Loso |   Tata Young   | Clash |