DC-10 A Gogo
An airline themed go go in the famous Nana Plaza, DC-10 a Gogo is Located on the 2nd floor of the entertainment plaza. This narrow club provides you with the most up close and personal action. Airhostess is available in all shapes and sizes to tend to each guest and take care of your every need. The staff of DC-10 a gogo offers excellent customer service, and will give you their undivided attention.
… and you feel like your walking down a tunnel. This airplane inspired venue has a long runway down the middle with airplane style stadium seating along the sides. The stage is platform style with brass pole rising into the rounded ceiling. The mirrored style windows and rounded ceiling give it an airliner kind of look and experience. Along the back is the full service bar, which carries all of your favourites.
Remember we are talking about a place that looks like the inside of an airplane. So when you come inside you should be prepared for cramped conditions. Just like a discount airlines, there's not a lot of legroom, and your seats are always in the upright position. There is some good ways to look at this. Visiting a location like this gives you the ability to be up close and personal with the lovely ladies. You can sit in one of the seats and almost touch the dancers on the stage, so if you don't mind being too close then just sit back and enjoy the ride.
The real factor in any of the places you visit is the girls, you can figure anywhere from 6-8 woman on stage with another 12 around the seating areas. The quality of the ladies is not as great as some of the other places in the plaza. Most of the ladies are a little older ranging in age from their twenty's to the forty's. This is a go go that offers a true hands on experience though. These ladies will do just about anything to please, and you find a lot of older guys in here that don't feel like worrying about small talk. The staff is ready to oblige.
At DC-10 a Gogo, you are really getting up close and personal attention from the staff. This is what makes it unique. The beer price is standard at 145 baht, bar fine is around 600 baht and the Ladies drink is 150 baht. If you like your talent in the middle aged range, there is a lot to choose from here. The younger girls are available but remember that there is a smaller staff here. Stop by DC-10 a Gogo and put their customer service skills to the test.
Open: Daily from 8 pm to 2 am

Getting There:
by BTS Skytrain until Nana Station exit then 3 min walk until Nana Entertainment Plaza (Sukhumvit Soi 4) - bar situated in Nana Plaza Level 2
Photos Gallery: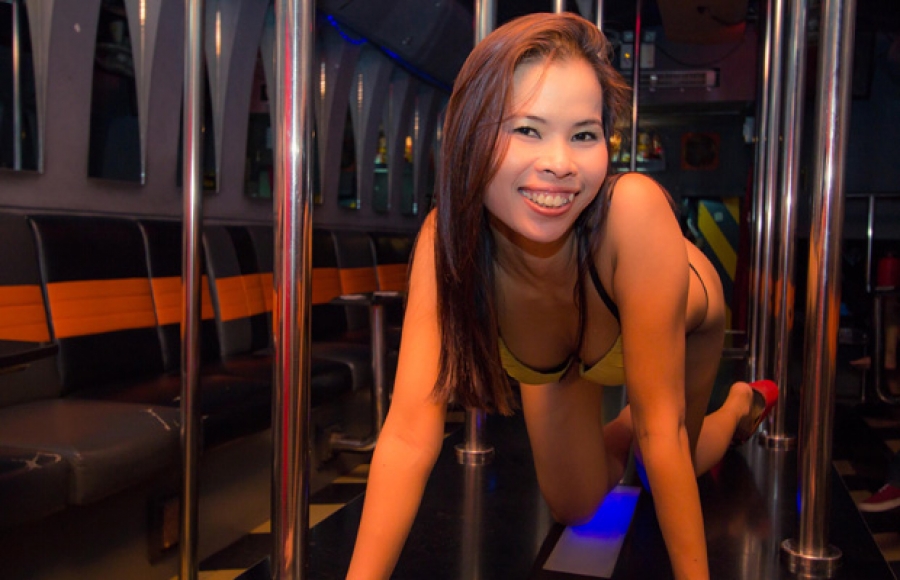 Videos: